O.K., I never really do "Hot Sheets" but this bunch of random bits looks like one. Here it is.

[Pictured: What it must look like from 5:30am-11pm to certain coffee shop baristas offering free wi-fi throughout L.A. County. Cause Malibu, Agoura, Calabasas and Santa Monica isn't really L.A., technically. What can I say...I prefer certain zoning not offered in Los Angeles City.]

LINCOLN BLVD (VENICE/MARINA DEL REY) "FOR LEASE" SIGNS ALL OVER!!! (SIGNALS BIGGER PROBLEMS):
Was walking down Linclon Blvd today and noticed how many stores were closed with "For Lease" signs. Just like I noticed when I was in Woodland Hils and all over town. But Lincoln Blvd has SO much traffic, it's devastating. And although heavy traffic, it's a pretty easy street to shop on and walk up and down. I know times are tough, but there has to be a way to make some of these prime store front locations work. Traffic flies by all day long. "Drives by slowly in heavy traffic," is more like it. Some restaurants and businesses thrive on that street in that area, so it could be a marketing problem with the stores in what they are offering in product and services. The city needs to be innovative and creative, because this looks like an emerging problem.
And a really bad sign of the economic future, for those wondering if which way the wind will be blowing, since L.A. City is banking on an upswing in their budget hopes and dreams. (Because that's all they are.)
AND YOU DON'T THINK IT'S WORSE THAN VILLAR PLANNED FOR IN THE BUDGET?:


(From LA Times)

More California hotels are being pushed into foreclosure as tourists and businesses alike scale back their travel plans and owners are unable to pay their mortgages.
Statewide, more than 300 hotels were in foreclosure or default on their loans as of Sept. 30 -- a nearly fivefold increase since the start of the year, according to an industry report released Tuesday.
The list of troubled properties includes the downtown Los Angeles Marriott and Sheraton Universal. (This in addition to the bankrupt condo towers like Meurelo's)
Most struggling hotels remain open, but industry experts believe many properties are likely to be closed down in the months ahead, even if they are not in foreclosure, because they are losing so much money.
"I have never seen so many lenders contemplating mothballing properties," said Jim Butler, a hotel lawyer and chairman of the global hospitality group for Jeffer, Mangels, Butler & Marmaro. "It can and it will get worse for the hotel industry."
The problem is not unique to California, but the effect is being felt especially hard here because of tourism's importance to the state.
[Think we're almost out of it? I think the hard times are about to start, soon.]
Price of gold sets new record even as dollar rises
3:26 PM, October 7, 2009 | Source: The Associated Press

Gold prices have extended their rally, climbing to fresh highs even as the dollar recoups some of its losses...[A lot of wacky things are happening in the stock and commodities market. Something is going to adjust. Please monitor your stock portfolio closely throughout the day. I would check the overseas market before you go to sleep and as soon as you wake up, which I hope is at 6am when the markets open. (http://cnbc.com & http://bloomberg.com -- links now posted under the gold chart that has always been posted on the right hand column of this blog.)





Zuma's local Malibu neighbor and community activist TOPS Billboard Album Chart (for 9th Time):

I know the album itself isn't politics, but if you people think you have problems with parks and open space in Sunland-Tujunga, we have problems in Malibu, too. One of the local political activists often fighting hard (against the community, not with) just scored her ninth #1 album on the Billboard chart, beating even Mariah Carey, in the first week of release for both. Sometimes we disagree on politics, but I can at least admire her, a little, as a fellow vocal artist -- and people say I steal too much of the spotlight in Malibu and this is a big deal for the community to see a local do well on the charts...so FINE: CONGRATULATIONS TO ("WHAT'S HER NAME") STRIESAND, FROM MALIBU, FOR HER WHOOPTY DOO #1 ALBUM. (Big deal, I could have a number one album to if my name was Barbra Striesand.) David Geffen probably went out and bought all the albums to make her feel good.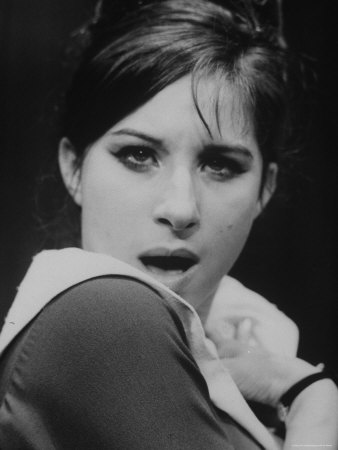 [Pictured: She was SLIGHTLY less annoying back in these days. I'm glad she doesn't write her own lyrics. What a mess that would be.]
MALIBU EXCLUSIVE:
ZUMA DOGG SINGS STRIESAND!
Pot legalization gains momentum in California - Could Make It On Ballot (Before City Council Salary Cut Measure)

SAN FRANCISCO — Marijuana advocates are gathering signatures to get at least three pot-legalization measures on the ballot in 2010 in California, setting up what could be a groundbreaking clash with the federal government over U.S. drug policy.
At least one poll shows voters would support lifting the pot prohibition, which would make the state of 40 million the first in the nation to legalize marijuana.
Such action would also send the state into a headlong conflict with the U.S. government while raising questions about how federal law enforcement could enforce its drug laws in the face of a massive government-sanctioned pot industry.
Read More
PODCASTERS START YOUR ENGINERS...I MEAN ACCOUNTS: Alright, first I had to get my messages out via fax in the 80's/early 90's, then email blasts (before websites), then websites...blogs, YouTube, myspace/twitter/facebook, regular podcast sites (fixed uploads, not live) -- and now...Blog Talk Radio (
BlogTalkRadio.com
). Yes, each and every one of us, can now be Dr. Laura! It even includes your own call-in number so you can take live calls and a cool sound effect and music dashboard so you can produce it with cool bumper music like Mark Levin. (Have you ever heard of him? He's a talk radio host who is supposed to be big.) OR, you can pretend like you work for KFI, the most successful talk station in the country -- and do six hours a day the way their top jocks are forced to. So it SOUNDS easy...sign up for an account, then "Go Take On The Day With Your Talent On Loan From The Blog Talk Radio Internet Network...GOOD DAY!

http://blogtalkradio.com/zumadogg
One

more thing...coming soon.