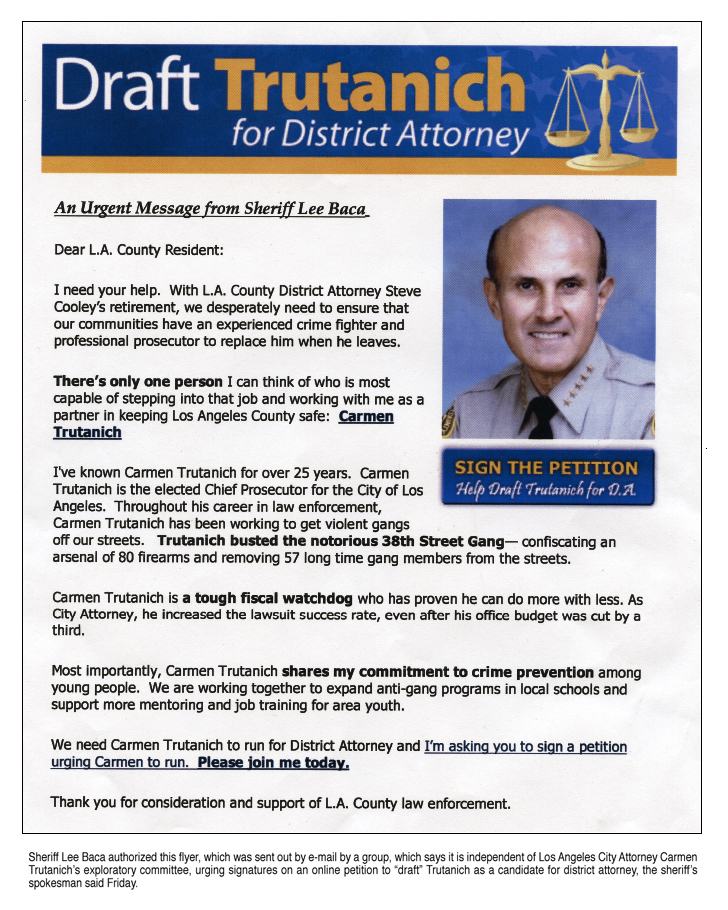 READ THIS BULLSH*T: In ONE sentence it says, "The spokesman added, however, that Baca's urging in the email that recipients click on an email link to "sign a petition urging Carmen to run" does not constitute an endorsement of a Trutanich c
andidacy if one should materialize."

But, IN the
email Baca says, "There is only one person I can think of who is most capable of stepping into the job and working with me as a partner....Carmen Trutanich."

THAT IS NOT AN ENDORSEMENT? I CAN THINK OF NO STRONGER ENDORSEMENT unless he just said, "Vote For Trutanich or I will have you arrested upon exiting the voting booth." HOW BLIND AND IGNORANT DO THESE PEOPLE THINK WE ARE?
"I can think of no more of a bigger lying, double-talking, fact-fudging, supporter-betrayer, supporter-loser, joke of a hostile, bully, head up his ass, phony, two-faced clown, than Carmen "Nuch The Douche" Trutanich." But that isn't to say I am asking you to vote for ANYONE else, or pick a name at random and write it in, should he choose to run." - Zuma Dogg
EXCERPT:
Monday, June 13, 2011
By KENNETH OFGANG,
Staff Writer
Los Angeles County Sheriff Lee Baca authorized an email sent out last week by a group seeking to "draft" Los Angeles City Attorney Carmen "Douche" Trutanich as district attorney, a spokesman for the sheriff said Friday.
When Cooley made the expected announcement last month that he would not run, the "Draft Trutanich" group decided to send out an updated version of the email blast, and the sheriff did not, and does not, object, Whitmore said.
The spokesman added, however, that Baca's urging in the email that recipients click on an email link to "sign a petition urging Carmen to run"
does not constitute an endorsement of a Trutanich candidacy if one should materialize
.
Human Cesspool, John Shallman, a campaign consultant working with the exploratory effort, said there is no connection between it and the draft movement. [YEAH, cause Shallman who gets paid by commission based on media dollars spent for a campaign -- gets involved in "exploratory committees" all the time!]
REFRESH to top of
LACityNews.com
.