VIDEO OF ZUMA DOGG AT LOS ANGELES CITY COUNCIL MEETING:
1. 5/26/ Public Comment: Zuma Dogg Addresses PENSION SCANDAL at City Council Meeting
2. 5/26 Mr. Zuma Dogg HAMMERS City Council on PENSION SCANDAL
(also featuring Matt Dowd)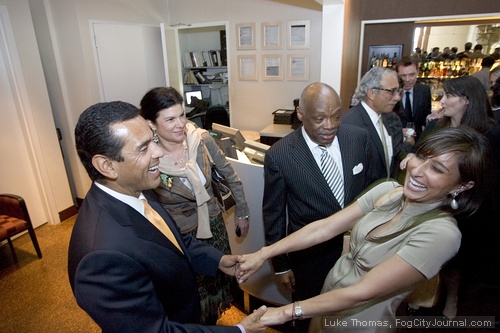 Villaraiogsa has a FUCKING BLAST in San Fransisco at what looks like one hell of a "fun" fund raisers with Platinum Capital's Darius Anderson, also of Gold Bridge. Jerry Brown has issued subpoenas, but nothing worth stopping the party over.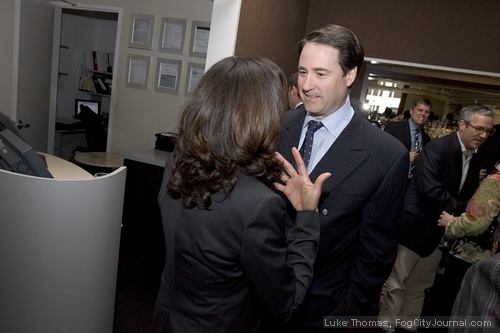 Platinum Advisors founder Darius Anderson at the same party Villaraigosa is pandering at.
Ya know, I really do not like the divisive spin coming out of Mayor Anotnio VIllarigosa's office regarding a certain newly elected official who CREAMED THE CAREER out of Jackass Weiss.
There is a lot of scandal and corruption to be told when you are talking about losing $7 BILLION dollars of CITY PENSION MONEY in a scheme that the SEC is now investigating, arrests and guilty pleas have been made, subpeonas issued by NY & CA Attorney General's office, AND TODAY, Los Angeles City Council finally delivers Zuma Dogg the biggest "I TOLD YOU SO" OF ALL TIME, as those 7 BILLION TIME LOSERS OF L.A. CITY COUNCIL held a hearing regarding "LACER PENSION REFORM" (too late, dumb-ass Councilosers), which included one guy who basically says Villaraigosa has been shady as fuck all along. I AM GOING DOWN AS A LEGEND IN THIS CITY FOR BEING SO FUCKING RIGHT ON THE BIGGEST ISSUE IN CITY & STATE HISTORY, THAT I AM
STILL
BEING HUMBLE AS I SAY THIS.
And now, EVERYONE in the media can join in with this scandalous and tragic story of greed, arrogance and corruption now that the LA Times will surely be covering this.
Here are the names I am publishing to punish Villaraigosa for paying people to spin against the new City Attorney's office. I am going to bitch slap you with my blog until you can't even get elected for Lincoln Heights Neighborhood Council, let alone Governor.
AS A MATTER OF FACT, I'M NOT GONNA STOP UNTIL EVEN THE MONEY LAUNDERERS WHO BACK VILLARAIGOSA WON'T TOUCH HIM!
two can play at this game, bitch! and YOU will lose. i have nothing. you have EVERYTHING to lose. but you WON'T be able to walk away. you just won't i would stay away from vegas and keep your commissioner appointments hands off the pension money. DON'T WORRY, VILLAR'S TEAM IS OUTTA THERE! IT'S JUST SO OVER FOR TEAM VILLAR. His pension team is getting yanked by the city,IF NOT THE FEDS! There is NO WHERE TO HIDE! Better hop on the plane to Dubai, TEAM VILLARAIOGSA and international drug launderers and their political cronies.
ANTONIO VILLARAIGOSA, WENDY GREUEL, ANDREW CUOMO, HILLARY CLINTON, THE KANSAS CITY CHIEFS OWNER, HENRY CISNEROS, RON BURKLE, DARIUS ANDERSON, DE BEERS, VIVENDI, GRAY DAVIS, DAN WEISNSTEIN, VICKY SCHIFF, WILLIAM H. JACKSON, BILL CLINTON, ARI SWILLER and MORE WENDY GREUEL, AND EVEN MORE WENDY GREUEL, SAM DIAMATTO, LOUIS MORET, GEORGE TORRES, AND MORE ANTONIO AND MORE WENDY GREUEL (for using her COUNCILMEMBER title on an invitation for Andrew Cuomo who you really MUST read about on this blog.)
I TOLD YOU SO, I TOLD YOU SO, I TOLD YOU SO, I TOLD YOU SO, I TOLD YOU SO,
INFINITY!!!!

Dennis Zine and Bernard C. Parks say Villaraigosa should not be able to appoint the majority of members to the City Employees' Retirement System and the Fire and Police Pensions boards.
Responding to investigations of public pension systems across the country, two members of the Los Angeles City Council called Wednesday for a reduction in Mayor Antonio Villaraigosa's power to pick pension board members.